Your Day 1 round-up of Smarter Mobility Africa LIVE supported by Alstom
Smarter Mobility Africa LIVE supported by Alstom successfully brought together Africa's mobility industry on a virtual platform.
Africa's main mobility event hosted by Kriya Gangiah will be happening on across the coming 3 days and was opened by MEC Jacob Mamabolo, the MEC for Public Transport and Roads Infrastructure at Gauteng Provincial Department of Roads and Transport.
The day 1 agenda which focused on Public Transport had everything from panel discussions to Pecha Kucha's, the networking area was a buzz of engagement and the virtual exhibition had over 50 solution providers from Africa and across the globe.
Click here to see what day 2 has in store.
Cities around the world are working hard to ensure their mobility system is smarter every day. Gauteng Provincial Government, which is the Host Province for the annual Smarter Mobility Africa gave a keynote address where they presented the latest strategy on 'Growing Gauteng through Smart Mobility.' Click here to hear more.
Business Development Director at Alstom, Kefilwe Mothupi gave a presentation on the benefits of Trams for building a smarter mobility Africa and how Alstom, a global innovative player for a sustainable and smart mobility is committed to taking up the challenge of sustainable mobility.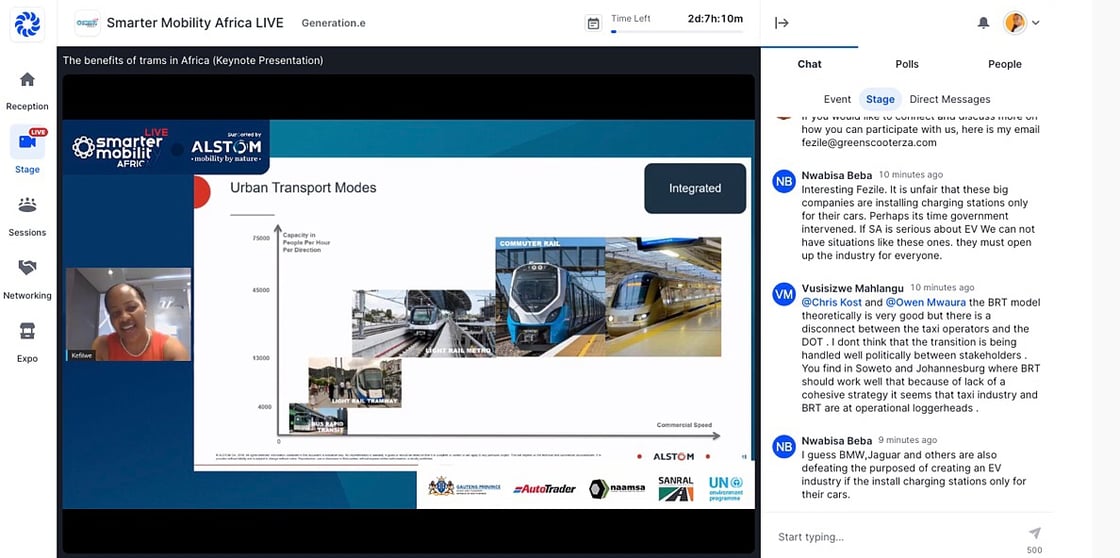 "Cities reengineering themselves for a smarter mobility Africa," brought together city leaders and planners to explore how their job role and priorities may have shifted, and what the real challenges and opportunities are ahead.
A sneaky glance of our two breakout sessions held today. We had experts share their insights and engage in discussion on ' Creating a just transition to smarter mobility' and 'Apps to enhance public transport delivery and integration – Digital Transport Data.'